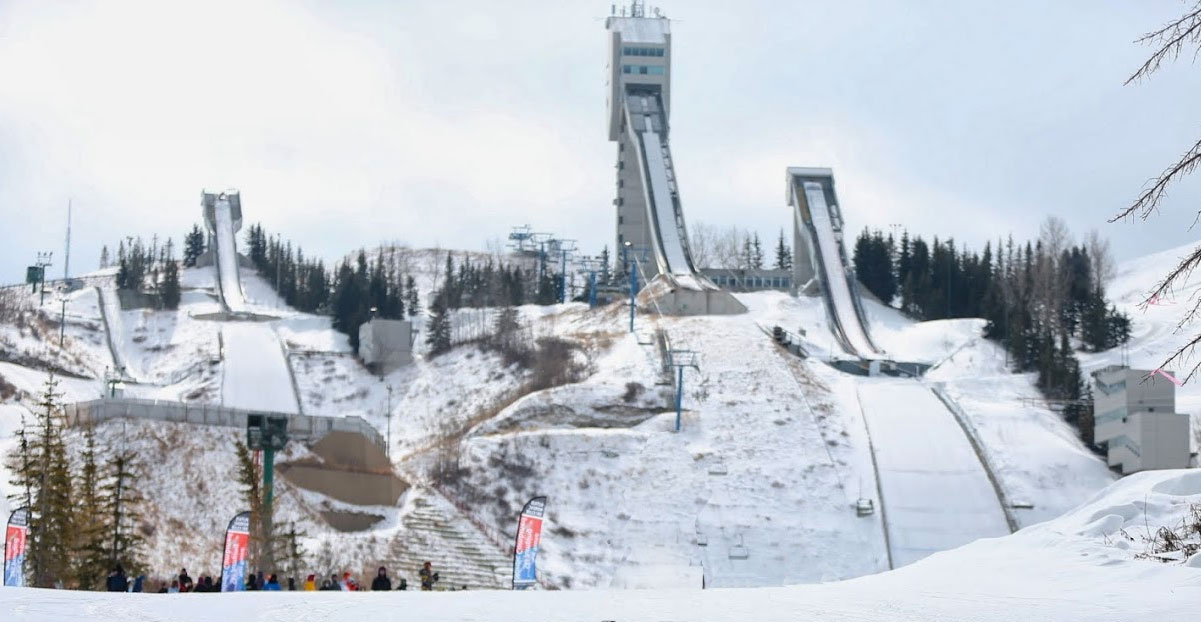 | | |
| --- | --- |
| Hill Size: | HS 95 |
| K-Point: | 89 m |
| Hill record: | 101.5 m  Christian Friberg  2012-01-03, NJ-NAM |
| Summer hill record: | 104.5 m  Isak Grimholm  2002-09-22, COC |
| Ladie's hill record: | 95.5 m Sarah Hendrickson   2012-01-02, NJ-NAM |
| Ladie's summer record: | 95.0 m  Juliane Seyfarth   2006-07-26, L-COC |
| Take-off length: | 6 m |
| Take-off angle: | 10.75° |
| Landing angle: | 37° |
| Conversions: | 2005/2006, 2013 |
| | |
| --- | --- |
| Hill Size: | HS 67 |
| K-Point: | 63 m |
| Hill record: | 71.0 m  Andrew Osadetz |
| | |
| --- | --- |
| Year of construction: | 1986 |
| Further jumps: | K38, K13 |
| Status: | operating |
| Plastic matting: | yes |
| Ski club: | Altius Nordic SC |
Le parc Olympique du Canada est situé dans la ville de Calgary, dans la province de l'Alberta. L'établissement a construit 5 sauts pour les Jeux Olympiques d'hiver de 1988. Sur les 5 sauts 4 sont toujours utilisés tous les jours sur une base annuelle. Ceux-ci incluent K89, K60, K38, K18. Les atterrissages en plastique ont été ajoutés en 2005-2006 pour faciliter la formation estivale et les compétitions. En 2013, un système de piste réfrigérée a été ajouté à la K89 et l'inrun a été re-profilé pour respecter la réglementation de la concurrence internationale.
Search
Whistler FIS CUP Day 1
Day 1 if the Whistler FIS CUP. Our Canadian Women taking the top 4 sport. Thanks to Mike Rae for his great video work.
Mackenzie Boyd-Clowes on the World Cup Circuit 2017
Follow Mackenzie as he represents Canada in the the World Cup ski jumping competitions around the globe.